NIGHTBRINGER – TERRA DAMNATA 2LP (Season of Mist Underground Activists)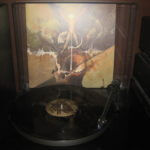 Nightbringer – an act I have been championing for years – delivers 52 minutes of mystical, occult-ridden, complex, chaotic Black Metal on fifth full-length, 'Terra Damnata', but this time I'm finding the whole experience irritating as all hell – too melodic, too atmospheric, too safe and way too accessible.
The songs positively soar through the speakers, uplifting and delightful like some hybrid of Emperor and Cradle of Filth and I find it bland and boring and downright disappointing.
The big, grand, epic sound has a lot in common with Dimmu Borgir and it's quite disheartening to witness any band moving more into this horrible direction. A thoroughly professional and accomplished piece of work, no doubt, but my love affair with Nightbringer is well and truly over. What was I thinking?
Fuck, this is really terrible stuff.
Evilometer: 000/666