NORDVREDE – MONUMENT VIKTORIA (Darker Than Black Records)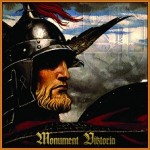 This is the first time I've checked in on Norwegian outfit Nordvrede so I wasn't sure what to expect. Due to the elite tag, I was worried that perhaps their music would be too 'epic' and 'soaring' for my liking but, thankfully, this is not the case. 'Monument Viktoria' comprises six cuts of rather excellent raw-yet-melodic Black Metal that fly from the speakers in the blink of an eye (i.e. 34 minutes).
There's more than enough variety (and quality) here to hold my attention for the duration and there's also adequate grimness to satisfy the inner beast in me. Ultimately, it's aggression that I'm seeking and I discovered a good fix of anger and menace in Nordvrede's addictive work. I don't normally single out individual songs for attention, but the seven-minute fourth track, 'Slaves Of The Conqueror', is one of the best I've heard in a long time.
Contained within a lovely digipack, this CD boasts a superb sound and would possibly have achieved full marks were it a little longer (and perhaps a touch less melodic). All in all, this is a tidy release, though, and one worth supporting.
Evilometer: 555/666