OGDRU JAHAD – I LP (Iron Bonehead Productions)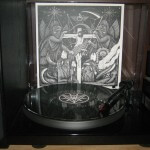 Iron Bonehead is fast becoming one of my favourite labels. Great releases and a superb mail order service sure do make for a winning combination! The debut album from Danish horde Ogdru Jahad – featuring members of Blodfest – serves up half an hour or so of crude and irreverent Death / Black (?) Metal with a really bad attitude towards the so-called Virgin Mary.
Who doesn't exist, of course, so it hardly matters.
Suffice to say, Ogdru Jahad think religion is shit and that religious figures are covered in shit. So they sing about it. The lyrics are included on the inner part of the heavy duty gatefold jacket but it won't take long to read them – they are as pithy as they are nasty.
Not much more to say about this one, really, apart from the fact that it is dirty, ugly, menacing Death Metal that would have proudly stood toe to toe with the originators of the subgenre two-and-a-half decades ago. I'm not sure if there's any actual Black Metal in here at all, to be honest, but it's a fantastic album, nonetheless. And a fun one, too. Go get it, Christ-defiler…
Evilometer: 555/666