OMITIR – COTARD (The Path Less Traveled Records)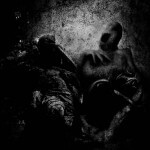 The brain (I use the work lightly) behind Omitir, Joel Fausto, has really pushed the boat out on his second full-length, 'Cotard'. Of course, the danger with going too far out to sea is that you might end up drowning. Or contracting rickets or something. In the case of this album, it has suffered a fate much worse than death … or disease.
Incorporating the liberal use of saxophone and thereby imbued with a sickening jazz / blues vibe, this is one of the worst albums – of any genre – I've ever heard. How anyone classifies this garbage as Black Metal is beyond me (like a lot of things seem to be these days.) Call me old-fashioned but, in all seriousness, 'Cotard' is simply too much … and then some.
This utter rubbish only set me back $5 from Nuclear War Now but still constitutes one of the biggest rip-offs in commercial history. My advice would be to avoid this like the plague it is.
Evilometer: 000/666