OUROBOROS – INVOKING THE PAST 2LP (Iron Bonehead Productions)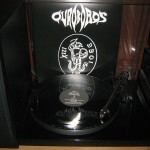 This has been a very difficult review to write and the trouble I encountered along the way reminds me of why I'm so often tempted to give this up. Nigh on impossible to do anything – properly – with a two-year-old child hanging out of you… The eagle-eyed readers out there in anonymous cyberville will have noticed that, since first publishing the review, I have edited it, rewritten it, changed my mind, altered the  marks and practically ended up with a totally different outcome to my original views. This is really fucking bad journalism! I have broken all the rules. But, hey, fuck the rules … I got there in the end.
I'd never heard of Ouroboros before buying this double vinyl but I was drawn in by the fact that one member also plays in A.M.S.G., whose MLP made quite an impression on me. Probably not the most solid foundation upon which to lay out almost €20 of my hard-earned cash but there you go…
'Invoking The Past' is a compilation featuring four tracks from the previously-unreleased 'The Hammer Speaks' 10" (not sure how it can be construed as a 10" if it was never released…) on Sides A and B plus 2001 demo 'Invoking The Worm' (eight more songs) on Sides C and D … not to mention (but I just did) the pretty pointless addition of a demo version of 'The Hammer Speaks', which was already included as Track #1 on Side B (albeit sounding completely different, I suppose).
Generally, what we have is utterly unsophisticated, raw, uncompromising, in-your-face, old-school, garage Black Metal; perhaps what Archgoat or Demoncy might sound like if they recorded their albums in a shed instead of a studio and chucked in occasional samples. Upon repeated listening to an album that at first didn't click with me, I'm getting the distinct impression that Ouroboros were ahead of their time. And, while I'm all for unpolished and raw, the music on this collection is oftentimes too rough and ready, unprofessional / unaccomplished and unengaging for even my liking.
The second record is much better than the first one, leaning more towards the aforementioned A.M.S.G., and single-handedly dragging me in and encouraging me to give Sides A and B repeated spins. The more I hear it, the more I get it… I didn't like the first record at all to begin with; now I recognise how essentially underground and cult and unique it is.
A cool double record comes with gatefold sleeve and 16-page booklet, sealing the deal. 'Invoking The Past' captures perfectly the mood and spirit of a particular moment in time and, while it's a bit of an analogue mess and at times sounds more like school kids fucking around than anything truly nasty or evil, I have to admit it is quite the charmer. And great drumming!
Memo to self: give the music a chance before you start spouting.
Evilometer: 555/666