PERDITION ORACLE – LITANIES OF THE SERPENT (Total Holocaust Records)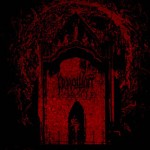 I'll cut straight to the chase: 'Litanies Of The Serpent' is a stunning accomplishment. Perdition Oracle is another one-man effort from the extremely talented IV – the same individual who delivered the exceptional 'Divinity Through Un-creation' LP under one of his other handles, Ill Omen, last year. He's also the guitarist with Naxzul and is involved with a host of other bands (which I'll definitely be checking out).
Everything about 'Litanies Of The Serpent' is superb. This is fantastic underground, harsh/ambient Black Metal with just the right mixture of eeriness, disdain, malevolence and melody. The songs remind me a lot of the aforementioned Ill Omen as well as bands like Ash Borer to an extent, but Perdition Oracle's music has a unique identity all of its own and I cannot recommend it highly enough.
It's not often that I listen to the same album four or five times back-to-back, but I've been spinning this one non-stop all weekend. A superb collection of songs from an intriguing artist on a really cool label – what more could any of us ask for? The Australian scene is very interesting at the moment and this is yet another example of why we should all be in awe of some of the wonderful exports emanating from Down Under.
Evilometer: 666/666