PRIMORDIAL – REDEMPTION AT THE PURITAN'S HAND (Metal Blade)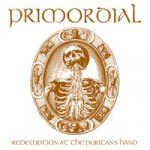 True to form, the sixth full-length from Irish folk / pagan metal band Primordial is also their worst. Indeed, for the purposes of this website, it's utterly redundant as this isn't a Black Metal album. 'Redemption At The Puritan's Hand' is so laboured, so irrelevant, so boring and so pompous that it's hard to believe this is the same entity that released the magnificent 'Imrama', 'A Journey's End' and 'Spirit The Earth Aflame' triumvirate during a golden five-year spell towards the end of the millennium.
Since then, Primordial have moved further and further away from their blackened roots and, frankly, they are no longer worthy of being called a Black Metal band (not that they probably wish to be, either, in all fairness. In fact, judging by the big sound they have developed on recent releases, rippling with majestic grandeur, I'm sure they have 'moved on').
Problem is, for someone who loves the rawness, murk and energy of Black Metal but cannot abide epic, emotive heavy / pagan metal tunes with fist-pumping melodies and chest-swelling, soaring vocals, Primordial have morphed into a parody of their former selves. Granted, there is a maturity about the lyrics and a sense of pathos (albeit an irritating one)  seeping through the eight tracks, but so what? Primordial are as relevant to swallowedinblack.com as Radiohead or Dropkick Murphys or Clannad. Given the style of music they're producing nowadays, the fact that I can't stand 'Redemption At The Puritan's Hand' seems almost beside the point.
How ironic that as they continue to celebrate the glorious past of their celtic ancestors and fellow countrymen, Primordial have moved so far away from their own stellar roots. The groundswell of approval and acclaim that accompanies each new Primordial release mystifies me; I suppose it's the reward for stepping closer to the metal mainstream (I mean, Metal Blade?). Give this a miss and check out the rather excellent Srodek album 'Förfall' or anything by Fell Voices instead.
Evilometer: 000/666