SALIGIA – SIC TRANSIT GLORIA MUNDI LP (Barghest)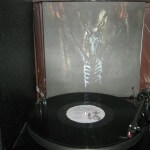 'Sic Transit Gloria Mundi' is the debut full-length from Saligia, a two-piece from the very heartland of Black Metal itself – Trondheim in Norway. Released last year, it contains all three tracks from the 2010 demo of the same name plus four new-er tunes. The LP version has been remastered and, frankly, is fucking excellent.
Anyone with an appreciation of genuine, authentic underground Black Metal is sure to appreciate the efforts of Saligia, whose occult offerings are very much of a magical bygone era yet at the same time fresh and relevant to the here and now. 'Sic Transit Gloria Mundi' is a solid, no-frills slab of superbly-executed, simple yet devilishly addictive blackness with just the right amount of hooks and melody thrown in there with the chaotic rawness.
A 12×12 lyrics sheet is included with the vinyl edition and the only minor complaint I have is that I think the labels might be on the wrong sides of my copy of the record. That ridiculously-petty complaint aside, this is a fantastic demonstration of Black Metal exactly as it should be. Okay, it's relatively straightforward, hardly perfect, and not necessarily doing anything new – but so what?
Evilometer: 555/666