SENTIMEN BELTZA – ILTZEAK LP (Titan Woods / Spitako Studios)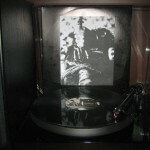 'Iltzeak' is the sixth Sentimen Beltza release I've reviewed here so I'm pretty sure Oindurth SaVinitta now holds the dubious honour of Most Reviewed Artist on Black Metal Reviews. This was actually the Basque warrior's debut full-length, spat out on tape by Gorpubelatze Productions four-and-a-half years ago and resurrected in the vinyl format sometime last year.
In a way, what you are reading is probably a pointless review as this edition of the album is limited to one hundred units and may be somewhat difficult to acquire at this stage. However, listening to it again recently, I was quite taken by the underground ethic at work (Xeroxed pictures glued on to each side of the all-black cover), which reminded me that those who are truly passionate about Black Metal can overcome lack of funds with creativity and determination. I wanted to give the labels concerned a thumbs-up, even if it is unlikely to boost their sales…
There's nothing cheap about this release, however. A historic record from one of my personal favourite bands, 'Iltzeak' is definitely not Sentimen Beltza's best album – but is is  still a whole lot better than the produce of most other Black Metal bands.
Evilometer: 555/666