SENTIMEN BELTZA – ZULO BELTZ ETA SAKON HONETAN (Bubonic Productions / Thor's Hammer Productions)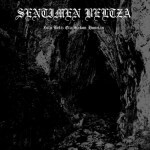 'Zulo Beltz Eta Sakon Honetan' is Sentimen Beltza's third full-length in as many years (and fourth in total). They've also released four splits and an EP, the splits being so underground that I haven't managed to get my hands on any of them. Regular readers will however know that I've bought all the albums and, well, I probably should be growing bored of the epic, depressive Black Metal offerings of this one-man Basque entity by now. But I'm not.
Like the excellent 'Olabezarko Basoen Bakardadea' and 'Bizitza Osoan Zehar Sortu Den Etsipenaren Ondorioak', this is another superb collection of soaring, emotional BM anthems, six in total clocking in at 55 minutes. It's raw and dissonant, yet melodic and well-produced. Everything a good album should be, really. Having set the bar ridiculously high on previous outings, Oindurth SaVinitta has left himself in a position where clearly the only way is down.
Thankfully, though, the almost inevitable descent hasn't started yet and Sentimen Beltza scales spectacular heights once more on this latest voyage. Worthy.
Evilometer: 666/666