SHINING – 8 ½ – FEBERDRÖMMAR I VAKET TILLSTÅND (Dark Essence Records)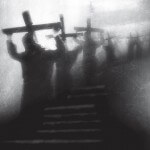 Shining is one of the most-divisive Black Metal bands of all time, mostly due to the antics of frontman Niklas Kvarforth. There doesn't seem to be much middle ground when it comes to listeners' perception of this particular crew – most people either love them or hate them.
Personally, I always judge a band 100% on their music and I believe that 'IV – The Eerie Cold' and 'V – Halmstad' are indisputable masterpieces in the depressive BM sub-subgenre (or any other, for that matter), although the band's last three albums have been decidedly disappointing by comparison.
I approached this album with an open mind, aware than Shining are capable of producing both great moments and mundane anti-climaxes. However, when I mulled over the precise nature of '8 ½ – Feberdrömmar I Vaket Tillstånd' – essentially a stopgap release featuring old recordings bumped up with new bass and guitar, and the incorporation of keyboards as well as vocal contributions from six different vocalists – I immediately thought one thing: gimmick!
I was prepared for the worst. Shining's music has been in decline for years and this release smacked of opportunism…
However, having listened to '8 ½' a number of times, I must report that it is thoroughly enjoyable. Aside from the novelty factor of having the likes of Maniac, Attila Csihar and Gaahl on board (which might appeal to fanboys, but I can take or leave this…), the album is coherent, consistent and superbly-executed from start to finish.
It sounds like a proper album, as opposed to a various-artists compilation and is possessed with a creepy, eerie and unsettling atmosphere throughout. This is easily the best stuff Shining have put their name to in the last six years.
Evilometer: 555/666