SHORES OF LADON – EINDRINGLING LP (Sol Records)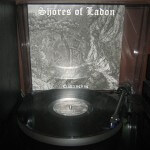 If you want to hear a new Black Metal band that will bore you to within a trip to the local hardware store of your life, then check out Shores Of Ladon. 'Eindringling' completely lacks identity and brings nothing worthwhile to the (turn)table. It is bland, derivative, uninspired, underwhelming and ultimately utterly pointless.
There's more wishy-washy, melodic water-treading on here than I can bear to recount, so let's just say this record doesn't hit the spot. A massive disappointment.
Evilometer: 000/666