SOMBRE FIGURES – STREAMS OF DECAY (Deviant Records)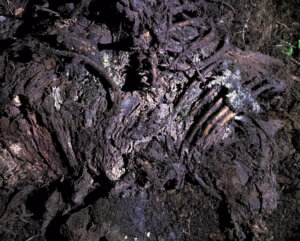 Death, darkness and decadence seep through every malignant, putrid pore of foul Finnish duo Sombre Figures' bluntly morose, haunting debut full-length, 'Streams of Decay' – a bleak recording from the forest's edge which reeks of the stench of decomposition. Collectively, the seven curses contained on this morbid conjuration of grimy, raw yet engaging Black Metal explore the endless cycle of life and death, alluding to the one defining force of nature than can never be disrupted. Each living thing dissolves into the soil, sustaining new life, which in turn shall come to an indignant end.
Accompanied by suitably disturbing artwork and imagery, 'Streams of Decay' is an oppressive and unsettling experience from the murderous onslaught upon "the weaklings of mankind" that is 'Broken Bones' to the glorious, vigorous rapture of 'Streams' – the final nail in the coffin. Through their music and lyrics, Sombre Figures channel an almost illuminating darkness, focussing on death and finality to place life itself firmly in context.
The blazing, sick, grim and twisted malevolence of 'Grandmother of Death' fills me with a sense of nostalgia, bringing me right back to times gone past when I was first bitten by the bug of misanthropic art. The guitars fizz and shred, coffin-lid drums crashing and smashing, throwing dust and ash into the ether, choking and blinding, those ghastly, demonic larynx-lacerating vocals completing the deathly cacophony.
Building upon the momentum established two years hitherto by three lengthy contributions to 'Eternal Black Metal', a two-way split with partners in grime Blood Red Fog, Sombre Figures invite us on a forlorn journey through the overgrown, nutrient-rich fields of history, past overflowing graveyards littered with cold, forgotten corpses.
The grim lesson delivered by our predeceased from their final resting places is that we are all destined to follow them. We are the walking dead and 'Streams of Decay' celebrates the fate that awaits us all.
Evilometer: 666/666