SVIKT / KIRKEBRANN – BETRAYAL & BLASPHEMY LP (Blut & Eisen Productions)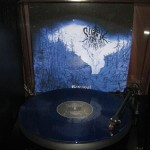 Two relatively-unknown Norwegian hordes – who share a member in the form of Hrafn – join forces on this vinyl-only split, which is limited to a tidy 500 units. Before I go any further, I want to make it clear that this record will not set the world on fire or become known as one of the greatest Black Metal LPs ever released. However, for a mere €13, it is well worth at least considering.
Regular readers will already have seen my review of Svikt's excellent debut full-length, 'I Elendighetens Selskap' (which, incidentally, has also just been granted a vinyl release by Blut & Eisen), and should therefore know that I enjoy their music.
Svikt's side of this record is called 'Betrayal' and boasts two instrumentals (a short intro and a lengthy outro) bookending a couple of impressive mid-paced work-outs … one in Norwegian (I think), the other in English. As I stated at the outset, nothing spectacular really but nonetheless enjoyable stuff.
I wasn't familiar with Kirkebrann prior to purchasing this record but I like two of their three contributions on 'Blasphemy', even if the third and final one isn't quite my thing (mainly due to the naff lyrics).
All in all, two interesting underground BM bands playing together on a record that comes with lovely artwork (a front cover on either side!) and an insert with all lyrics and credits, recording details etc. included. I believe this is a commendable though hardly mandatory release and I would definitely recommend it.
Evilometer: 444/666