THE EYE – SUPREMACY LP (Debemur Morti Productions)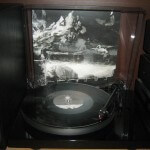 The very mention of the name Vindsval should be enough to pique your interest here. The Blut Aus Nord mainman conceived The Eye in the mid-90s and debut full-length 'Supremacy' was released in '97 (interestingly, the year after BAN's second opus, 'Memoria Vetusta I: Fathers Of The Icy Age' and a full six years before the epiphanic 'The Work Which Transforms God').
I was going to say that, apart from the involvement of Vindsval, The Eye doesn't really have anything to do with Blut Aus Nord … before realising that this would be a dumb statement. So I won't say it. But I will stress that, musically, there are few comparisons between the two projects. 'Supremacy' delivers 40 minutes of almost-epic pagan Black Metal, very melodious and harmonic and bordering on exotic at times.
I found it fascinating to listen along to this alternate visage and I must admit the fact that the composer / executor was only 18 years old when he threw this together is mightily impressive. As ever, the album has been lovingly resurrected by DMP, with a sumptuous gatefold jacket and a fucking fucker of a poster, hehe. The vinyl edition does tremendous justice to the stunning artwork and reverently complements what constitutes a true musical curio as well as a slice of history.
Debemur Morti should have offered a money back guarantee with this record because it is extremely unlikely that anybody will purchase it and regret doing so. (Having said that, there are a lot of mongs in the world.) Worth acquiring; and I believe a follow-up album from The Eye is also imminent.
Evilometer: 555/666