THE TRUE WERWOLF – DEATH MUSIC (Werewolf Records)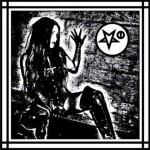 Now we're talking! This might not be a proper full-length (Technically, The True Werwolf has yet to release a debut album), but it serves a similar purpose, offering forth a grand total of ten songs from the band's various vinyl EPs, clocking in at a very impressive 60 minutes. 'Death Music' isn't consistently brilliant the whole way through, but it's still a fantastic journey that for the most part showcases superb chamber Black Metal of the very highest calibre.
I absolutely love the two insane tunes on the 'Weeping Lord of the Majestic Plagues' 7" and – for all the giving out I do about the digital age – I must say it was cool to get these on CD, finishing off this particular collection in considerable style. The tracks are dished out in reverse chronological order, starting with the as-yet-unreleased 'Vampyric Magick' EP, then the relatively-new 'Battlemoon' EP and, penultimately, TTW's contribution to the 'A Shadow Of All Evil' split – plus a bonus track.
Some lyrics are included, along with cool pics and an impressive underground layout. All in all, this is fucking awesome in every way.
Evilometer: 666/666