THE TRUE WERWOLF – DEVIL CRISIS LP (Werewolf Records)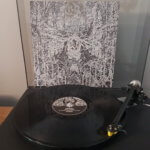 It's been a long time coming but The True Werwolf's long-awaited first full-length proper, 'Devil Crisis', finally walks amongst us. Grav Werwolf is of course better known for his other one-man Black Metal venture, Satanic Warmaster, but he's also been releasing a steady stream of high-quality demos, EPs, splits and compilations (and even a live 2CD) under this handle since 2007. Many of us assumed that the much mooted and seemingly-mythical debut full-length would never materialise … but here it is, released on the creator's own label, Werewolf Records.
Unsurprisingly, it has become increasingly difficult over the years to determine where Satanic Warmaster ends and The True Werwolf begins. While the former is synonymous with delivering exceptional traditional Finnish Black Metal in the vein of Horna, Sargeist or Behexen, the latter was always a bit quirkier, rawer but also with more ambient touches. Eclectic and unpredictable. For this reason, I generally preferred The True Werwolf, so my expectations for 'Devil Crisis' were really high. Perhaps too high.
We are treated to three-quarters-of-an-hour of galloping, triumphant, epic and rather melodic Black Metal. All very inoffensive. While the music is a throwback of sorts to an era when Black Metal was pure and untainted, intrinsically evil even, it's also somewhat pompous, fantastical and over the top – especially 'Chi No Namida', which pays homage to a computer game called Castlevania (maybe you think this is a nice touch but I don't) and the Motorhead-like closer 'Magick Fire' – just a truly terrible song.
All in all, 'Devil Crisis' is a reasonable album and possibly one I will appreciate more at some point in the future but, for the time being, I find that it's too accessible and – tongue in cheek or not – filled with way too much fun and not enough fury. Frustratingly, it fails to impress on the same level as The True Werwolf's older material. Ultimately, the record provides a distinctly underwhelming experience. Too epic and grandiose and heavy metaly for me, no longer primitive nor raw, and certainly not at all what I was expecting.
Evilometer: 222/666