THY DARKENED SHADE – LIBER LVCIFER I: KHEM SEDJET 2LP (World Terror Committee)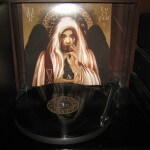 Don't think I've ever procrastinated over a review for as long as this one. I've been listening to Thy Darkened Shade's sophomore full-length, 'Liber Lvcifer I: Khem Sedjet', around the clock(-ish) for a week now, waiting for the magic to kick in and grab me by the throat. But it's not quite happening.
This is an album that I feel I should adore. Technically, it is nothing short of amazing. Considering that this has been spawned in the Black Metal underground, it's a remarkably accomplished body of work. Acrobatic fretwork; bubbling, audible bass; astonishing stickwork – tick, tick, tick. Strong, versatile vocals with lots of variation, too.
The vinyl edition is exceedingly generous, with 80 minutes of esoteric art spread over two records … gatefold jacket, beautiful booklet. I know in my heart of hearts that Thy Darkened Shade are really, really good at what they do and I can find no fault with them nor any reason to be critical.
But, unfortunately for me, for some reason, I'm not feeling it. Even though it is meticulously conceived and superbly crafted, like Negative Plane on steroids perhaps, this masterpiece just isn't for me. And I'll probably never know why.
Evilometer: 333/666