VASSAFOR – OBSIDIAN CODEX 2LP (Parasitic Records)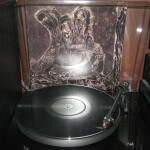 This isn't your standard 2LP in that it's not one album spread across two records. It's actually a double album, comprising over 94 minutes of ritualistic Death Metal with some doomy / sludge moments and a pervading Black Metal spirit. I don't hear an awful lot of BM in the actual music, but there's no denying that the analogue tone, cavernous feel and underground ethos of the album(s) are black to the core.
Apparently, these records are 180g each; they seem much more substantial. Each disc is a chunky slab of slate-like black, something you could use to decapitate your neighbour. Or your partner. The highlight of the journey for me is Side C (or, taking into account the misprint on the label, my second Side A!) which is wholly dedicated to the sublime, hypnotic, slow-paced 'Nemesis' – a stunning 24-minute offering.
Indeed, most of the songs are slow- to mid-paced and there's a genuinely unnerving feel to the entire album(s), which reveals itself a little more with each listen. The gatefold cover is fantastic, with classy artwork and appropriate fonts used. My only small gripe is that there are no inserts and no lyrics included. But, fuck it, you can't have everything…
For obvious reasons, this will cost more than your regular vinyl LP and postage and packaging could, nay will, be a bit steeper than usual. But it's worth every penny. A mandatory purchase for anyone who fancies trying some non-conventional, swirling / churning underground Antipodean Death Metal (with the merest trace of Black).
Evilometer: 666/666