VASSAFOR – ELEGY OF THE ARCHEONAUT 2LP (Dark Descent Records)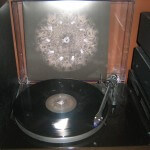 To be fair, 'Elegy of The Archeonaut' is a double album in every sense as it goes on forever and ever. I'm not sure what the exact running time is but it must be close to an-hour-and-a-half. This anthology collates most of Vassafor's pre-'Obsidian Codex' material from the 1997-2007 era and it all makes for very interesting listening.
The downsides are obvious: as it wasn't recorded as a whole, there is little in the way of coherency or consistency going on here and the flow of the records is further let down by the fact that the long songs are mostly frontloaded onto Sides A, B and C leading to a lack of balance. (By the way, Vassafor are at their best when delivering longer tracks.)
However, on the whole, 'Elegy of The Archeonaut' offers a priceless insight into the background of this great New Zealand band, spitting out a heady mix of Black, Death and Doom. Oppressive and crushing yet totally uplifting. Comes in a gatefold jacket with insert (included selected lyrics) and poster (yippee). Really great stuff.
Evilometer: 666/666