VASSAFOR – MALEDICTION LP (Iron Bonehead Productions)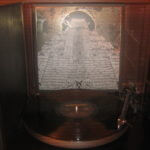 This is one heavy record. Literally. It's listed as 180g but feels more like 280 in my bony hands. Chunky as all fuck. Maybe it's the oppressive, all-consuming chaos painstakingly pressed into the grooves of the deep black wax that weighs it down.
Either way, Vassafor's aptly-titled second full-length, 'Malediction', is another monster from this stellar band, undoubtedly one of the finest dwelling in the decayed Black / Death underground. Considering that the New Zealand duo have been releasing high-quality music for more than two decades and have a sizeable canon of incredible material to their credit, it's difficult to fathom that there are just two albums proper…
And even though there are only three new songs contained on here ('Servitude' and 'Black Winds Victoryant' are re-recorded versions of cuts that were included on the amazing 'Elegy of the Archeonaut' 2LP), 'Malediction' is nevertheless an outstanding exhibit of murky, cavernous, rumbling black doom that kicks off with the sensationally-disturbing 16-minute-plus 'Devourer Of A Thousand Worlds' and never lets up.
Everything about this album is magnificent, apart from the fact that I dropped my copy onto the platter (Although from no great height, it plummeted forcefully downwards, like an angry hippo's stool) and etched a multitude of unwanted clicks into Side A. Too much weight for my feeble limbs.
Heavy gatefold jacket, inner sleeve and poster further bolster the gross weight, so you might want to visit the gym a few times before picking this substantial unit up.
Evilometer: 666/666