VASSAFOR / SINISTROUS DIABOLUS – SPLIT LP (Iron Bonehead Productions)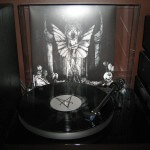 This is a really great split featuring two New Zealand hordes, both of whom are pretty much at the height of their powers right now. Vassafor delivers two lumbering instalments of dull underground Black Metal on Side A, while Sinistrous Diabolus adopts a more doomy / cosmic black approach across three offerings segued into one on the flipside. In total, we get 44 minutes of magnificent dark and disturbing musick.
The link between the two bands is hyper-active dual member VK, also of course of Temple Nightside and Irkallian Oracle infamy. Vassafor's sound is particularly low – in keeping with the analogue production ethos, one assumes – so I've had to crank the volume up even higher than usual.
Buried in the murkiness is a multitude of barely-concealed delights. That applies to both artists on view. Classy gatefold cover; no lyrics proffered. Watch out, too, for the imminent Vassafor / Temple Nightside split. Exciting times.
Evilometer: 555/666