VASSAFOR / TEMPLE NIGHTSIDE – CALL OF THE MAELSTROM LP (Iron Bonehead Productions)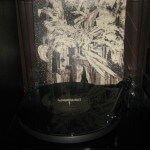 Something of a no-brainer here so I won't stand on ceremony. When two of the best Black / Death hordes from the other side of the globe come together for a one-off split vinyl release, there's only one thing to do: hand over the mere €13 entry fee and proceed to spin the record over and over again.
Both these bands are utterly superb (and have been featured regularly on this blog – invariably picking up full marks); 'Call Of The Maelstrom' is equally essential in every way. Even if it doesn't necessarily feature the best material that either act has put its name to thus far, it's still fantastic stuff – 37 minutes of incredible dark art available for less than the price of most MLPs.
Evilometer: 666/666