VELORIO / IRAE – DECEIVER'S LIGHT (Necrogoat Heresy Productions)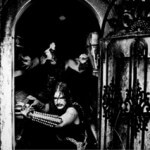 Got this one as part of a recent mail order from Bubonic as I had the opportunity to add a few CDs for just €7.50 each without incurring additional postage costs. I'm almost loathe to purchase CDs any more due to the undeniable superiority of vinyl, but I think this split album was worth making an exception for. It's too good to miss out on and I'm confident there won't be a vinyl version appearing any time soon…
Irae was the band I most wanted to check out , as they've released some great music down through the years, but – as often happens – it is the comparatively-unknown entity that steals the show. 'Deceiver's Light' constitutes the debut studio offering from Velório, who weigh in with a surprisingly-competent 20-plus minutes of eerie underground Black Metal across four rituals.
A one-man Lusitanian 'band' fronted by an individual who opts to call himself Angel-O, Velório crams a lot of great ideas into his music, which in a way comes across as a rawer, more crude version of Leviathan. The ambient, atmospheric parts are more subtle but are there nonetheless, though a vicious, grim onslaught powers the likes of 'Burying The Dead' and 'Logaeth' forward. Inspirational stuff from a surprising source.
Meanwhile, Irae does what Irae has always done under the watch of Vulturius: churning out uncompromising, rabid BM mostly delivered at breakneck pace. The inclusion of a track called 'Prime Evil Black Metal' sums up Irae's contribution to this split better than I ever could with words.
All things considered, this is a wonderful CD, cased in a neat digipack including lyrics and with the respective contributors helping each other out as guests on selected songs. 'Deceiver's Light' provides an enjoyable glimpse of the far-beyond-nascent Portuguese underground and is definitely worth investigating.
Evilometer: 555/666