VERDUNKELN – WEDER LICHT NOCH SCHATTEN 2LP (Ván Records)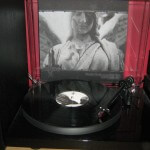 As a long-time watcher of these Germans, I was pleasantly surprised to catch their second full-length try to slip by me, sneaking along under the radar. To say there was no fanfare accompanying this release would be an exercise in understatement. One day it was just there. On the Ván website. Double vinyl edition, too. What a pleasant surprise on an otherwise uneventful, wet weekday afternoon! Had to check it out…
My initial impression was one of disappointment. I think the 2xLP format is worthy of a gatefold jacket and there is none with this. Also, the running time of 49 minutes doesn't quite justify a double vinyl – I was expecting at least an hour of music. This etching-on-Side-D nonsense really pisses me off, too. Who wants to own one side of a record with an etching on it? That's like a TV screen made from tin foil. Pointless. Worthless.
On the plus side, there is a lyric sheet included and a poster … and the card that the record sleeve is constructed from is quite cool (digging the bottom of the barrel?). Also, the artwork looks fabulous in the 12"x12" scale. On to the music, then…
Well, Verdunkeln more or less deliver the goods, especially on the three epic tracks – 'Am Ende Des Abgrunds', 'Die Letzte Legion' and 'Weder Licht Noch Schatten'. They play a slow-to-mid-paced doomy strain of Black Metal that's unmistakably German – and one could argue not really Black Metal at all. More like black rock or black doom. Performed in the native tongue and conjuring up images of olden days, ancient faces, battles perhaps. I've noticed that a lot of the music I've been listening to lately has a nostalgic vibe going on and this record-and-a-half seems to fit into that category, though I really have no idea what they are talking about…
This isn't raw in any way. And Verdunkeln aren't BM in the traditional sense – if in any sense at all. Generally, the vocals aren't snarled or screeched. They are more spoken / whispered but arguably no less effective for that. A strong sense of melody runs through the music, but to my ears it all becomes kind of boring. I thought both 'Einblick In Den Qualenfall' and the vinyl version of the self-titled demo were better – though it has been a while since I listened to either.
All in all, 'Weder Licht Noch Schatten' is a good enough (2?)LP but not a brilliant one and the not-worth-a-flying-fuck Side D mars the record big time.
Evilometer: 333/666