YELLOW EYES – SICK WITH BLOOM LP (Gilead Media)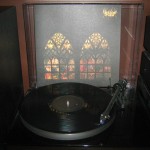 Yellow Eyes returns with another full-length of shrill, unmistakably US Black Metal and 'Sick With Bloom' is every bit as accomplished as what precedes it. This is a really good record but today I'm finding that there's something in the confident, sophisticated delivery of this style of Black Metal that sits kind of uncomfortably with me.
Maybe it's run its course; perhaps it's a meander too far from the church-burning ethos of yore. Or possibly it's because I'm tiring of bands whose lyrics and imagery suggest that they would be more inclined to endorse planting an orchard than planting a priest.
Evilometer: 333/666