BATTLE DAGORATH – ANCIENT WRAITH (Cold Dimensions)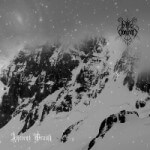 I was really intrigued when this Californian horde surfaced on Cold Dimensions, an essentially German Black Metal label in every sense. The partnership took me quite by surprise. Though I was familiar with Battle Dagorath's debut album, 'Eternal Throne', here was a marriage I would never have seen coming. It's a fantastic union, however, as BG fit in snugly alongside the other bands on the Cold Dimensions roster – most notably the incredible Lunar Aurora (who have a new album scheduled for release this winter, oh joy of joys).
After a suitably frozen intro, Battle Dagorath proceeds to emit an astonishingly grim chill through the twelve-minute 'Empire Of Imperial Shadows' – a perfect execution of cold, underground BM, with an atmosphere of solitude and icy shards and snowstorms so far removed from the band's sunny origins. For the next hour and more, we are taken on a rapturous ride through some of the most arctic, ice-blasted, freezing Black Metal to emerge in 2011.
The vocals are as fucked-up as Striborg; the drums sounds like an axe smashing off the top of a frozen lake; the guitars akin to frosty hands being flayed on a sharp cheese cutter in a cave in Alaska. Listening along, you will genuinely feel a chill go down your spin; you'll find yourself drawing back the curtains to see is it snowing outside.
Ambient Black Metal doesn't get much better than this. It's a thrilling album, let down only by the last track, which I think is more filler than thriller – essentially a 20-minute wall of noise. But don't let that put you off. 'Ancient Wraith' is one of those hidden gems we need to find and treasure.
Evilometer: 555/666