AKITSA / ASH POOL – SPLIT LP (Tour De Garde / Hospital Productions)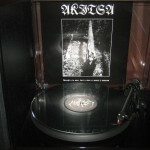 What an intriguing collaboration we have on our hands here! Two great underground Black Metal acts coming together for what can only be termed a cult split, released on vinyl and bled forth from the corrupted womb by labels in which the bands in question have a clear vested interest. The result is quite mind-blowing…
This split is actually called 'Arraché à la mort, forcé à vivre et mourir à nouveau' or 'Ripped From Death, Forced To Live, And Die Again' depending on which side you're referring to. But why nit-pick? 'Split LP' will do just fine. Fits better above.
I'm a sucker for Akitsa and can't get enough of their third and fourth full-lengths, which were re-released on vinyl by World Terror Committee recently, namely 'La Grande Infamie' and 'Au Crépuscule De l'espérance'. If you have yet to hear the epic, 21-minute closing track on the former album, 'Foret Disparue', then I can only recommend that you check it out asap.
Anyway, returning to the matter at hand, Akitsa's side of this split comprises three superb examples of stellar Black Metal art, completely and utterly of the underground – as in beneath a north North American forest – complemented by two instrumentals. Cool-as-fuck stuff.
Ash Pool's side is noticeably louder, both sound-wise and in terms of the message it conveys. I keep forgetting to adjust the volume after flipping the black wax over. And they are just crazy, too, these guys. Demented and weird lyrics provide the befuddling backdrop to their four offerings of strange and raw but addictive Black Metal magic, completing a really obscure collection of tunes that all fans of the subgenre should at least consider investigating.
Evilometer: 555/666