AKITSA – GOÉTIE 2LP (Hospital Productions)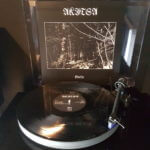 News that a new Akitsa full-length is imminent prompted me to dust off the previous releases and give them a long-overdue spin. Of the five existing albums, 'Goétie', the debut, presents Akitsa in its rawest, purest and most essential form.
The definitive double-LP version under consideration here was unleashed in 2016 to mark the album's 15th anniversary.
There's about an hour's worth of unique, trailblazing Black Metal to be found on 'Goétie' – 13 songs in total, including a trio of bonus tracks – and this is one of those that truly stands the test of time. While there were elements of 'Grands Tyrans' that disaffected me and concerns remain about what path 'Credo' might take, there should never be any disputing the sheer, unhinged greatness of Akitsa's stellar debut.
Evilometer: 666/666