ANTEDILUVIAN – λόγος LP (Nuclear War Now!)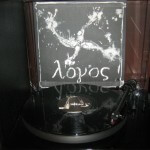 Two years on from the awesome 'Through The Cervix Of Hawaah', Antediluvian unleash their second full-length and it goes by the rather unusual moniker of 'λόγος' (AKA 'Logos' apparently). Fuck Logos; λόγος is a million times cooler! This new one clocks in at around 35 minutes and is about as impenetrable, inaccessible, messy and awkward as Death / Black(?) Metal gets.
I'm not sure if it's just me, but I can't help comparing Antediluvian to Portal. There's just something about the wall-of-chaotic-sound approach of both bands that makes them almost interchangeable to my ears. For an ugly, ugly album, 'λόγος' really is something else…
The vinyl edition comes in a gatefold cover, with lyrics (not that you'll be able to follow them!) included as well as the obligatory poster. The music is difficult – very like Portal's latest effort, 'Vexovoid', but well worth persevering with. Not sure if it's because I just get more accustomed to the chaos as I listen, but I find Side B an easier ride than Side A (although both are outstanding).
While not quite as obligatory as Antediluvian's debut LP, 'λόγος' is nonetheless a resounding triumph for lo-fi, crushing, suffocating, underground Death / Black (?) Metal.
Evilometer: 666/666