ANTEDILUVIAN – WATCHERS' REIGN 2LP (Iron Bonehead Productions)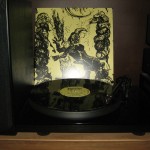 As a reference point alone, 'Watchers' Reign' is worth considering as it provides an intriguing insight into the origins and early dabblings of this fascinating Canadian band. But this eye-catching 2LP is of much more than historical significance; I believe the songs stand proud as worthy offerings in their own right and, therefore, that this is a thoroughly enjoyable release as well as one for completists.
Combining material from two of Antediluvian's demos – namely 'Primeval Cyclical Catastrophism' and 'Prehistorik Khaos' with the band's contribution to the 'Serpent's Malignancy' split and bolstering proceedings significantly into a full 16-track double record with the inclusion of the previously-unavailable 'Morbid Rehearsal: Total Blasphemic Mayhem', this sure represents a substantial release.
Even though part of me knows that some of the material on here is only average at best, by and large Antediluvian delivers some superb underground Death / Black Metal that proves beyond doubt that they were a special force even in their formative years. Lots and lots of really creepy and disturbing moments to be found on here as well as some catchy shit. From a band with a difference … and one that is never going to achieve mass acclaim because they are simply too fucking ugly, sonically.
The records are wrapped in a beautiful gatefold sleeve, with a poster included and the whole thing housed within an outer slipcase card cover. Looks and sounds the part. Just don't be expecting an easy ride – these songs are pretty rough and raw. As well as deadly.
Evilometer: 666/666