AOSOTH – IV: ARROW IN HEART 2LP (Agonia Records)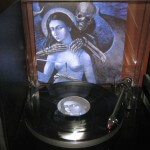 Musically (which is what really counts, of course), it's impossible to go wrong with Aosoth, who rarely put a foot wrong and have banged out yet another addictive brew of harsh blackness and wicked melody. There's a welcome degree of variety at work across the full duration of 'IV: Arrow In Heart', a release which is by and large captivating.
The infuriatingly catchy songs are very cleverly constructed and executed, while the inclusion of a thoroughly-cool, ambient, droning bonus track on Side D (as opposed to nothing at all or, worse still, a damned etching…). This is great stuff and the sprawling extra track pushes the already-generous running time well past the hour mark. Kudos.
Evilometer: 555/666