ARCHGOAT – THE APOCALYPTIC TRIUMPHATOR LP (Debemur Morti Productions)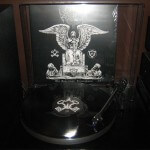 I was resigned to the likelihood that Archgoat would go through the motions for the rest of their recording careers. The Finns had clearly hit upon a winning formula with their first two LPs – 'Whore Of Bethlehem' and 'The Light-Devouring Darkness' – released in 2006 and 2009 respectively, and there was no reason to believe that these Mary-defiling veterans of the Satanic underground would – or could – take things to another level. I mean they were already nigh on perfect. Well, 'The Apocalyptic Triumphator' has surprised the shit out of me.
Vastly superior to Archgoat's stunning previous albums in every conceivable way, this is the ultimate in blasphemous Black / Death Metal summoned from the very bottom of Beelzebub's ballbag. Twenty-four years on from their inception, Archgoat are at the absolute pinnacle of their powers right now and they have just unleashed one of the dirtiest, evillest, nastiest albums in the history of extreme music.
The spectacular standard vinyl edition comes with a poster, a huge booklet and a code to allow the owner to download high-quality digital files of the entire album (or you can just slide it along the crack of your ass). Worth buying for the astonishingly-foul double whammy of 'Nuns, Cunts And Darkness' and 'Grand Luciferian Theophany' alone, this is a remarkable record that everybody needs to hear at least once before they die (and go to heaven, ha-fucking-ha).
Evilometer: 666/666