ARCKANUM – SVIGA LAE (Regain Records)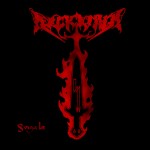 After a decade of almost total silence, Arckanum returned to the studio in 2008 and unleashed the excellent 'Antikosmos', followed twelve months later by the equally-impressive 'ÞÞÞÞÞÞÞÞÞÞÞ'. These releases heralded the beginning of a new golden era for Shamaatae, who found himself in the middle of an unexpected career Indian summer. Those who missed the Swede's magnificent triumvirate from the mid '90s were provided with the inspiration, motivation and opportunity to check into a stunning back catalogue of chaotic Black Metal from the ancient woodlands.
Arckanum could do no wrong. Then came 'Sviga Læ' in 2010 – his third full-length in as many years and one of my most-anticipated releases in a long, long time. I should have known better than to get my hopes up in this unpredictable, fucked-up world…
Alas, 'Sviga Læ' is a major disappointment, which doesn't even come close to its predecessors. I suppose the writing was on the wall when I saw the dreadful artwork on the front of the CD but I decided to let that one go. Don't judge a book by its cover and all that.
The music itself continues in a similar enough vein to 'Antikosmos' and 'ÞÞÞÞÞÞÞÞÞÞÞ', but ('Goðin Eru Blekkt' aside) doesn't have the same high level of quality control. The whole thing sounds disjointed and rushed. There are more fillers than truly enjoyable tracks and the album clocks in at a rather embarrassing 37 minutes. Now, I realise 'Antikosmos' was as short but the music on there more than compensated for the brevity of proceedings.
On 'Sviga Læ', it just feels like shortcuts have been taken left, right and centre. The entire album looks, feels and sounds like a rush job. There's no inspiration on this one. To the uninitiated, it may sound like a decent slab of BM but anyone already familiar with Arckanum's exemplary track record to date would have to feel let-down by his sixth – and frankly worst – album.
Evilometer: 222/666