BROCKEN MOON – HOFFNUNGSLOS (Northern Silence Productions)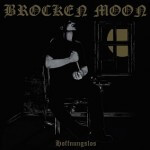 Even before this release, I was a fan of Brocken Moon; I believe history has judged them rather harshly. They should be better known and more highly regarded in the Black Metal scene but isn't that always the way with bands who dare to do things that little bit differently?
Brocken Moon have slipped into a nice groove of releasing a full-length every three years and 'Hoffnungslos' is their third such effort, following on from debut 'Mondfinsternis' and their 2008 offering 'Das Märchen Vom Schnee'. Northern Silence also issued a very notable 2CD compilation entitled '10 Jahre Brocken Moon' a couple of years back, so Humanhater has been making his presence felt…
'Hoffnungslos' is his strongest offering to date. Maybe it's because the main man has deployed the services of a full band of session musicians this time around; perhaps it's because he has tapped into a richer tapestry of inspiration. Either way, the Broken Moon evident here is head and shoulders above anything he's produced hitherto. And this is coming from someone who thoroughly enjoyed all three of the aforementioned previous instalments!
Be warned: this is no Marduk! But nor is it a fucking Alcest (don't get me started on how crap Alcest are…). I would describe 'Hoffnungslos' as ambient / depressive Black Metal, driven by fantastic musicianship and uncanny compositional skills. Don't be misled by my use of the term 'depressive' – this is no Shining clone and it goes nowhere near the suicidal bracket. It's dark, forlorn and downbeat, a reflective journey through some of the most sorrowful emotions hidden inside the soul. The use of piano / synth parts adds to the overwhelming atmosphere and for the most part the music is more acoustic than electric.
The vocals fluctuate somewhere between Silencer and Hypothermia, piercing the serene backdrop provided by some beautiful, thoughtful music. 'T12 Ritual' is an amazing exercise in obscure brilliance, while album closer 'Die Leere' is just sheer depressing yet uplifting in its decayed, heartbreaking majesty. Anyone who appreciates ambient, atmospheric or depressive BM is sure to find something here. If you happen to enjoy all three, then you're in for a real treat.
Evilometer: 444/666