ARSONIST LODGE – IANKAIKKINEN, PYSYVA, MUUTTUMATON PIMEYS (Hammer of Hate)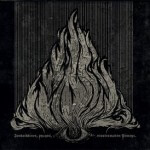 As I enjoy a lot of the output released by Hammer of Hate, I thought 'Iänkaikkinen, Pysyvä, Muuttumaton Pimeys' would represent a safe enough gamble. I was wrong. When I listen to this (mercifully-short) album, I'm torn between laughing hysterically and throwing up. I'll cut to the chase: this is total rubbish.
Arsonist Lodge are one of those 'Black Metal' (haha) bands that insist on including horrid spoken-word parts, harmonious interchanges, clean vocals and all that sort of nonsense. So melodious and sweet that it is offensive.
There is possibly some genuine Black Metal to be found among the debris (hard to tell, my senses are reeling) but the camp, Eurovision-esque nature of the above-mentioned panderings to feminine (or homosexual?) sensibilities render this album a veritable shitefest. Suffice to say, Arsonist Lodge are not on fire – perhaps someone should rectify this.
Evilometer: 000/666