ATRA – UP-TURNING THE CURSE MLP (Art of Propaganda)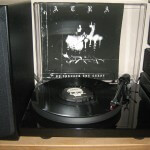 Originally unleashed in cassette format last year, this just-shy-of-30-minutes EP has been granted the vinyl treatment by Art of Propaganda this summer and it assumes a welcome place in my collection. Regular readers will know that I was mightily impressed by Atra's latest LP 'In Reverence Of Decay', opting to give it full marks and, well, it's hard to find fault with this mini-album too, in all honesty.
The music is superb – possibly more controlled and restrained than the aforementioned, chaotic full-lengther – eerie Black Metal that puts many bigger-name acts to shame. The only downside is that – as a 45rpm EP with essentially just four songs if we crudely discount the mandatory intro and outro – it is unfulfillingly short (obviously). But such is life. No point moaning about it. We can only play the cards we are dealt and all that…
If you want to hear some fantastic, lo-fi, unparticular yet strangely mesmerising underground blackness of the highest calibre, then look no further than 'Up-turning The Cross'. If it's something else you're after, fuck off and stop reading my blog.
Evilometer: 666/666