BESTIAL RAIDS – MASTER SATAN'S WITCHERY LP (Nuclear War Now!)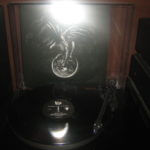 Raucous, pummeling and heavier than a hippo's balls, Bestial Raids are all about unsophisticated, puerile, subtle-as-a-sledgehammer, bestial, warmongering Black / Death in the vein of fellow purveyors of ancient evil such as Black Witchery, Archgoat, Revenge and their ilk.
Although confined by the obvious restrictions of delivering darkness within such narrow parameters, the Poles do manage to stake their own claim to entering Satan's unhallowed dominion on relentless, unforgiving and barbaric third full-length, 'Master Satan's Witchery'.
Fierce and fearsome, nasty and vile devil-worshiping art with a poster and lyric sheet.
Evilometer: 555/666