BLUT AUS NORD – ULTIMA THULEE LP (Debemur Morti Productions)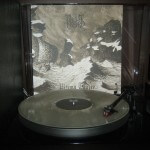 'Ultima Thulée' is the debut full-length from Blut Aus Nord, dating back to 1995. At the time, this historic release barely caused a ripple of interest. Which is remarkable, considering how fantastic it is… I'd almost go so far as to say that I prefer this enchanting prototypical incarnation of BAN to the irresistible, innovative force that has emerged post-'The Work Which Transforms God'. Trust me – that is some compliment!
Debemur Morti Productions has in recent years become a very natural home for Vindsval, not only releasing Blut Aus Nord's last three albums (the '777' trilogy, including this and this) and the 'What Once Was…' EPs but also reissuing the first three full-lengths on vinyl (including this), with the astounding, trailblazing 'TWWTG' in the pipeline, I'm led to believe.
Frankly, 'Ultima Thulée' is a remarkable 52+ minutes of stellar, icy, hypnotic, haunting, underground Black Metal with a keen sense of melody but also lashings of aggression and forlorn pathos. If you're not already familiar with this majestic, cult classic – which sounds every bit as beguiling now as it did 18 years (fuck, really?) ago – then it would be a wise move to hunt it down.
Epic and priceless black art.
Evilometer: 666/666