BLUT AUS NORD – WHAT ONCE WAS … LIBER II EP (Debemur Morti Productions)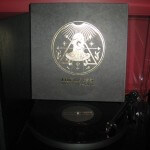 Fuck me, these guys are in a rich vein of form. With the astonishing '777' trilogy of full-length albums just completed, they've also found time to produce the second part of the parallel-running 'What Once Was' trilogy of EPs (a series of separate but related releases…). And, true to form, 'Liber II' is an unmitigated success.
An astonishing half-hour of musick that sits beautifully on two sides of a noble record, 'What Once Was … Liber II' is right up there as surely one of Blut Aus Nord's most chaotic, gnarly, unhinged and downright schizophrenic recordings to date. At times, it seems to be all over the place, yet with repeated listens it fits together perfectly, like a hammer and a face.
As demented, eerie and utterly bizarre as this EP is, it is also completely essential. So insane that it borders on genius, the haunting, spectral 'Liber II' is a logical progression from its predecessor and also a fabulous piece of art in its own right. To clinch the deal, DMP have housed the record in a fantastic heavy duty gatefold cover, which is right up there with the most awesome collectibles you are going to own.
To sum up: an amazing record; an incredible package; and a mandatory work of art. By the way, 'Liber I' –which was pretty damn good first time around but has already sold out its initial print – has been reissued in a similar housing and both records look as wondrous as they sound. I've said it before and I'll say it again: neither this band nor this label can do any wrong at the moment.
Evilometer: 666/666