CELESTIAL BLOODSHED – Ω LP (Terratur Possessions)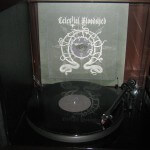 Steingrim Torson's tragic, sudden death in 2009 came as a sobering jolt as I had been a big fan of pretty much everything he'd put his voice to, particularly the spectacular Kaosritual LP 'Svøpt Morgenrød', Selvhat's little-known but monumental LP 'Gjennom Mørket Famlende' and the fantastic Celestial Bloodshed debut full-length record 'Cursed, Scarred And Forever Possessed'. I was really looking forward to enjoying much more from this surprisingly-unheralded vocalist / musician (Selvhat is a one-man project) … but alas it simply wasn't to be.
Posthumously, Terratur Possessions has unleashed what will be the final-ever Celestial Bloodshed release, featuring six new songs, which have been lovingly crafted and seamlessly put together against massive odds. For three of these, the vocal tracks were laid down by ST in 2009 with music added by the remainder of the band the following year; 'Trosbekjennelse' has been recovered from the vaults from a seven-year-old tape; while assorted friends helped out with vocal duties on the remaining two cuts, also recorded in 2010.
Unsurprisingly, the album – though difficult / expensive to acquire and understandably inconsistent – is brilliant and represents a fitting homage to Celestial Bloodshed's departed frontman. The lyrics are printed on the inside of a sumptuous gatefold cover and a tasteful poster of the man himself is also included. Unfortunately, at just 34 minutes, the record is disappointingly short – although I note that CB's debut was virtually the exact same length. Anyway, I suppose its abrupt nature is apt, poignant and fitting under the circumstances. Gone in a flash…
All in all, 'Ω' is a lethal parting shot and a worthy tribute to a criminally-underrated Black Metal personality.
Evilometer: 666/666