RAVENMOON SANCTUARY – WINTER DESOLATION OF DEATH LP (Altare Productions)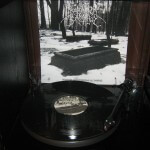 German label Darker Than Black took care of the CD version of Ravenmoon Sanctuary's debut full-length and the vinyl edition as featured here has subsequently been realised by Altare Productions in Portugal (and is limited to a mere 111 units for some bizarre reason). On 'Winter Desolation Of Death', the Poles perform eight tracks of melancholic, depressive, atmospheric Black Metal with soaring keys that threaten at times to hijack the entire album.
Needless to say, the prominent keyboards (courtesy of GrimSpirit from Evilfeast) add a hugely superfluous quotient of melody to the mix. This is an essential component of Ravenmoon Sanctuary's sound, I can only assume, but, while it's not necessarily terrible, I find the lashings of keys to be utterly unnecessary and wholly invasive. (For example, 'Eternity In Ice' reminds me of 'Hide And Seek'-era Howard Jones!)
This is still a decent album, with lots of good ideas, interesting tempo changes, enjoyable vocals and a decidedly forlorn atmosphere, but I just wish they'd toned down the keys a lot or maybe even omitted them altogether (there's a reason why I don't care much for Evilfeast). Pity.
Evilometer: 333/666