CHAO – SPIRITUS SANKTI EP (Terratur Possessions)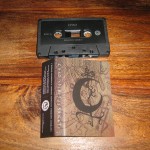 This EP showcases three excellent offerings of orthodox Black Metal from the Icelandic capital. The fact that it appears on Terratur almost guarantees high quality straight away and, naturally, 'Spiritus Sankti' does not disappoint. It comes on a beautiful pro cassette, with high-quality cover and a top-notch sound, which more than does justice to the rather superb songs included.
The downside is that we only get 20 minutes of Chao's fresh and exhilarating black blasts before it ends all too abruptly. But, in fairness, this is an EP … and it's fairly-priced too. As far as I can recall, it only cost me around a fiver including postage from Norway. So no real qualms there.
If you enjoy bands like Deathspell Omega, Ondskapt, Funeral Mist and Ofermod, then you should appreciate the work of Chao. Not only does 'Spiritus Sankti' hint at great things to come from this impressive new force but it is also a substantial and significant opening gambit in its own right. I'm sure Chao's debut full-length is going to be something very special indeed but, for now, this EP is most definitely worth acquiring, possessing and cherishing.
Evilometer: 555/666