CLANDESTINE BLAZE – FALLING MONUMENTS (Northern Heritage Records)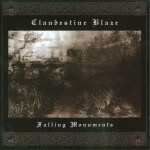 Black Metal by the people for the people and of the people. All the way from Lahti, Finland, Clandestine Blaze is Mikko Aspa's day job, when he's not moonlighting in the much-more-popular Deathspell Omega. The head of Northern Heritage has been toiling diligently with this harsh, raw one-man project for 13 years, and 'Falling Monuments' is his sixth full-length release under the CB moniker. It's also one of the best.
Though I probably prefer the exceptional predecessor, 'Church of Atrocity', it has to be said that 'Falling Monuments' is a pretty fantastic piece of black art. It's got that essential underground vibe seeping through every pore, thanks to an organic production that allows everything to bathe in dank squalor. The music itself is predominantly (but by no means always) mid-paced and grim, plodding along ominously with passionate fervour and dangerous intent.
I suppose you could classify CB as traditional BM in many respects, but I think that's unfair. His music stands head and shoulders above most of the established acts within the subgenre and is criminally under-rated. Aspa may have made a name for himself beyond his native shores mainly as the vocalist in DsO but this release proves yet again that there is a lot more substance and essence to him; he is a man of many dimensions.
Clandestine Blaze is an amazing entity in its own right: 'Call of the Warrior' more than matches what Deathspell Omega bring to the table, so ferocious and frenzied it is, yet all the time sustained by an infectious (albeit bleak) harmony; the stunning 'Melancholy of the Falling Monuments' is even more brooding, a harbinger of the end of all times, a call to the ancient past; 'Horizon of Ego Annihilation' sends glorious chills down the spine; the more aggressive 'Endurance of Supernatural Ritual' is merely standard fare; but 'Discordant Howls of Tormented' signs off in majestic fashion, a cascading, multi-linear pit of decadence.
This album never gets boring. To the contrary, the more I listen, the more I discover its hidden intricacies. It's the real deal, dripping with authenticity and know-how, a perfectly-executed Black Metal masterclass. One that deserves a place in even the most discerning fan's collection.
Evilometer: 666/666