CRAFT – VOID 2LP (Southern Lord Recordings)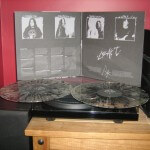 The European vinyl edition of the latest Craft album was handled by Trust No One Records and disappeared again as quickly as it surfaced. Thus, even though I dwell unhappily in the going-down-the-shithole-fast Eurozone, I had to seek out the US equivalent, which is a fantastic effort from Southern Lord – even if it did cost me an arm and a fucking leg. For $18 plus almost $20 for postage and packaging, I received a fabulous 180g 2LP in deluxe gatefold sleeve. Opted for the clear-with-grey-splatter version and it arrived in less than a week. Looks the part for sure, but how does the fourth Craft full-length (and first in six years) sound?
Well, to start, the follow-up to 'Fuck The Universe' contains one of the most pointless intros in Black Metal history (not sure how 'John's Nightmare' even merits a title) but the remainder of Side A is superb, especially the stomping and varied 'Come Resonance Of Doom'. From the get-go, it's clear that years of silence have not blunted the Swedes' swords; mastercraftsmen they remain; composing and executing ancient-sounding, primordial Black Metal of the highest calibre.
Though it is more accessible and melodic than a lot of the albums reviewed on here, 'Void' still packs a considerable punch and I can't imagine it disappointing any fans of traditional, orthodox Black Metal. Without coming close to being spectacular or ground-breaking in any way, this double record manages to deliver the goods impressively.
So, we get three songs on Side A and three more on Side B before proceedings close in monumental fashion with 'Bring On The Clouds' and the epic eight-and-a-half-minute title track on Side C. Call me weird, but I always feel let down when there is nothing on Side D. For tidiness sake if nothing else (not to mention the possibility of improved sound), the music on a 2LP should be spread evenly over four sides. Either divide them up differently or throw on some bonus material.
All in all, though, 'Void' is a solid effort from seasoned campaigners, worthy of the financial outlay – but don't feed the greed of Ebay speculators to acquire it.
Evilometer: 555/666