CREPUSCULUM – ILLUMINATUS (Odium Records)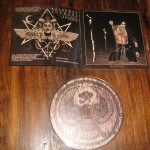 I wonder sometimes is it elitist and snobby of me to constantly harp on about vinyl when there are plenty of fairly adequate CD releases doing the rounds as well. By and large, my conscience is clear; I just happen to prefer records – I'm not necessarily suggesting that everybody else should follow suit. Generally speaking, CDs are fucking fine. They sound good and they are also a lot more convenient, as well as less cumbersome.
Anyway, here's a CD album that I'm more than happy to recommend to all you digital fiends out there. 'Illuminatus' is the second full-length from Polish duo Crepusculum and it represents a truly fantastic work-out of mid-paced , atmospheric blasphemic Black Metal. While admittedly nothing particularly spectacular or ground-breaking, 'Illuminatus' is a solid release nevertheless and an undeniably enjoyable listen.
The clincher is the presentation. Odium Records – the label of Black Altar driving force Shadow – has invested a lot of time and effort into coming up with a sumptuous 16-page booklet (cool pics, artwork, layout, lyrics etc.) which completes the package in considerable style. Relatively inexpensive, too, this is a wonderful album, all told. Even if it isn' t black wax…
Evilometer: 555/666