CULT OF FIRE – मृत्यु का तापसी अनुध्यान LP (Iron Bonehead Productions)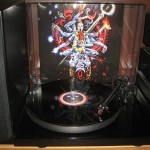 'मृत्यु का तापसी अनुध्यान' or 'Ascetic Meditation Of Death' is a truly spectacular slab of transcendental, esoteric, occult, spiritual Black Metal that combines raw aggression and beautiful eastern melodies to devastating effect. This is without doubt one of the best albums of the calendar year and should satisfy those who crave something a little bit different but still demand a Black Metal core (as opposed to avant or progressive crap).
As well as being an essential full-length musically, the record also represents a visual feast. It is beautifully packaged and presented, with a fantastic full-sized booklet attached to the inside of a substantial gatefold cover. Great artwork and a sumptuous aesthetic finish complete an already-stellar product and offer the end user maximum value for money.
In short, this is an outstanding and unique experience that no worshipper of the dark arts should go without.
Evilometer: 666/666