AYTNACHR – HATEFUL BLACK BEING LP (Final Agony Records)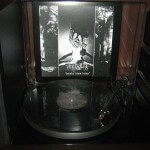 Harrowing, intense, tortured, tormented and strained are adjectives I would use to describe Aytnachr's debut full-length, the aptly-christened 'Hateful Black Being'. I could pad this observation out with lots of superfluous words to make it sound grand, but what's the point? In a nutshell, this is supreme, raw, underground Black Metal that's about as compromising as genocide.
The record comes in a DIY cover with Xeroxed pictures glued onto a plain black sleeve. This adds to its charm. Impossible to go wrong with this anguished slice of headache-inducing hatred and despair. Acquire and admire.
Evilometer: 666/666