DARKENED NOCTURN SLAUGHTERCULT – NECROVISION LP (War Anthem Records)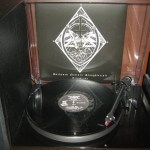 Darkened Nocturn Slaughtercult are clearly here for the long haul. 'Necrovision' is their fifth full-length and there's no sign of any let-up: in fact, it's one of those searing, relentless LPs that will blow the hair off your genitals. Scorching, blistering stuff with no remorse, DNS's latest record isn't the easiest one to get into (it takes quite a few listens), but your perseverance will be richly rewarded as a fine Black Metal album gradually reveals itself.
I was originally going to dismiss this as an also-ran. But experience held sway and I opted to be patient and give 'Necrovision' a few more spins before taking to the keyboard. Glad I did, as my first impression was inaccurate. Aside from the obligatory sedate intro, we are treated to eight ripping renditions that remind me quite a lot of that excellent Norwegian band of yore, Obtained Enslavement.
Freak-of-nature frontwoman Onielar and her acolytes take no prisoners along the way as they deliver 40+ minutes of stellar, high-octane, crisp and brash Satanic Black Metal art with some sparse devilish melody injected into the mix for good measure. Majestic mayhem materialises from the speakers, inducing a migraine but also putting a perverse smile on one's face. Just as Black Metal was originally intended to do.
The vinyl looks and sounds fantastic and the gatefold cover is superb. Only minor quibble is that the lyrics are printed in such a tiny font that I can barely read the fuckers. Maybe my eyesight is deteriorating from all that masturbating in moonlit moors. Karma?
Evilometer: 555/666