DEATH WORSHIP – EXTERMINATION MASS MLP (Nuclear War Now!)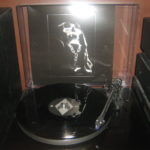 Featuring seasoned, craggy, battle-hardened commanders from Revenge, Blasphemy and Conqueror, Death Worship unsurprisingly sounds a lot like Revenge, Conqueror and (to a lesser extent) Blasphemy. 'Extermination Mass' salvages from the trenches 20(-ish) minutes of precise, militaristic war Black / Death (with some cool effects) that does exactly as anticipated.
Poster and insert with lyrics included but not much bang for one's buck in terms of the quantity of music (quality quotient very high, however). All in all, it's a great record but very short.
Evilometer: 666/666